New Shopping Cart Features
New Shipping Features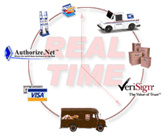 LIVE Country to Country, Zip to Zip UPS Shipping quotes. Yes- real-time shipping quotes for your shopper including UPS Global Ship for international orders!
LIVE background HTTP U.S. Postal Service rates for Standard packages.
Open Development policy- The shipping library is in open development, meaning it is separate but included and can be upgraded many times without any cost to you. More shipping features and services are planned for future development.
Security & Real-Time Background Credit Card Processing

Live (Background) Real-Time SSL Socket Connection to popular Credit Card Processing Services. Your shoppers will not leave your Web site as they are approved or declined, live online. You can even ban fraudulent shoppers from shopping your Web site.
Shopper Ban feature- you can ban a shopper by IP address for 72 hours.
All based on our ImpactObject Technology so these services can be easily added and updated. Very little is hard coded, allowing our development team to add templates for your use. The templates have many logical functions, including socket connection rules, validation rules and even fraudulent shopper banishment rules.
New Shopping Cart Functionality

Currency conversion display allows you to enter currency conversion rates for any country or currency. Your international shoppers can easily see the actual amount that they are spending in their country's own currency.
New 'Trash Can' on shopping cart lets shoppers better manage their carts.
Save for Later" allows shoppers to add several items to their cart, and select to buy only some of the items, while saving the remaining items for a future purchase. Shoppers may also save all of the items in their cart so that they may buy them later.
Easier and faster checkout system.
Personalized shopping cart now displays shopper's name when they add items to the cart, if they have an account. Includes new Session ImpactObjects such as %io_session_shoppername%.
HTML e-mail, so shoppers may now receive perfectly formatted HTML invoices after ordering.
More intelligent session management and cookie features allow a more stable shopping experience with modern browsers, and are friendlier to more secure personal browser settings.
All this in addition to the core shopping cart features available in this and previous versions of CartIt